The SazBass is a 8 steel-stringed electroacoustic instrument inspired by the traditional Turkish "saz" (also known as "baglama") and Greek "bouzouki", created and designed upon JC's request by French luthier Herve Prudent. It features 4 courses of doubled steel strings that are an octave apart.
The tuning as played by JC is generally (from low to high): G-C-F-Bb.

Its unique natural clear tone with shiny highs and deep lows has made it a key feature in the sound of several bands JC has brought it in, extending its spectrum while leaving a lot of space for other instruments. The combination of this set of high and low string along with JC's fingerpicking style allows him to play bass lines, chords and counterpoint melodies all together with very distinctive tones. A piezo pickup located under the bridge together with its inboard preamp provides the amplification through a 1/4 inch jack output. JC would plug into a bass amp.
JC's own SazBass was built in 2002.
 
The Story
JC brought back his first traditional baglama from Istanbul in 1990; the idea of the SazBass came up in 2000, during a residency at "Le Phoenix" in Valencienne, France, with guitarist Louis Winsberg. The work led to the creation of the flamenco-fusion project Jaleo. The band was there lent a prototype version of a 6 stringed electroacoustic saz from Herve Prudent. First intended to be a strictly melodic instrument played with a pick, it turned out, once in JC's hands to deliver astounding percussive and bass sounds (even though only reaching down to a low C, just a major third below the guitar).
First recordings and performances: the "Jaleo" project
The first song to feature this 6 stringed Saz in Jaleo's live set was "El niño", a flamenco tango in C, which JC would eventually introduce with a long solo, very often starting with chords, developing into a rhythmic improvisation of pitched percussion sounds on muted strings that reminded of Indian tablas. Towards the end of the set, JC would use the Saz again in the song called "Fenix" a rumba flamenca in F with a turnaround ending section in C and E flat. Consequently, the 6 stringed Saz is featured in the first album of the Jaleo project in these two songs and also in a beautiful ballad called "En una palabra". JC mostly plays keyboards on the album.
From 6 to 8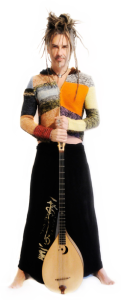 It was very clear by then that the incredible tone and possibilities of this instrument would inspire new music. For the whole tour of the first Jaleo project, JC would plug into a Fender Twin guitar amp that offered the required clear highs and decent bottom.
After he received the new and first ever made 8 string SazBass model from Herve, JC started working on new material for a new trio with two of the Jaleo members, percussionist Nantha Kumar and flamenco guitarist Jean-Baptiste Marino, playing mostly in Spain and France.
It is then also in 2002, that JC also started working on a project of new songs with the SazBass, the "Saz Songs" project, giving birth over the years to a whole body of work to this date still unreleased.
Note: the chorus of the song "Tired Of Myself" from the Grand Baton album "Carnal Carnival" was originally a riff written by JC for the Saz while running it through a fuzz pedal (evidently in the key of G, its lowest pitch). Equipped with a very sensitive piezo pickup, the Saz is very hard to control with heavy distortion and tends to feedback quickly.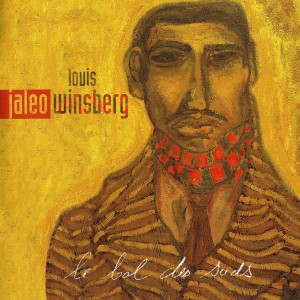 The SazBass became a centerpiece in the music of the following Jaleo record, "Le Bal Des Suds", released in 2005. The opening 10'42" piece, also named "Le Bal Des Suds", is a complex and fast buleria played in unison by the SazBass and the guitar. The Saz here also provides bass and harmony foundation for other songs like "Kakito Fandango" or "Isabelita". The album was supposed to feature a duet of the 8 stringed and 6 stringed Sazs together, called "Saz y Saz". The song was unfortunately accidentally erased from the session's hard drive during the mixing process and could only be heard during live performances of the band. It was finally re-recorded for the last Jaleo album "For Paco" in a new version featuring vocals by Sabrina Romero.
Here is one of the very few early videos of the duet:
And Now…
Subsequently, JC has taken the SazBass to new adventures: a duet project with drummer Ari Hoenig, later joined by vocalist JD Walter in New York City, on the road in 2012/2013 as the "bass" in a trio with Louis Winsberg (guitar) and Stephane Huchard (drums) backing belgian singer Maurane (featured in a live album recorded at Francofolies de Montreal in 2012), with moroccan singer Malika Zarra and more recently with Argentinian singer Sofia Rei, as shown in their performance for NPR's Tiny Desk show in December 2013, here in this video performing "La Llorona"
The same show at?NPR's Tiny Desk, features this interview of JC giving some details about the SazBass:
In March 2014, Sofia and JC performed a vocals/SazBass duet at Town Hall, New York City, as part of the John Zorn's Masada Book Three's world premiere concert. Following this concert, the duo recorded "Keter" for Tzadik records, one of the 11 CDs of the Book Of Beria'h, released on August 17, 2018.