This article is about the music of Ka Suite, JC Maillard's first solo album. It is to be continued.
Physical copies of the album are sold out but the music is available digitally.
– "Virtuosity, rhythm, sensibility, all combined for a delightful trip." – WMBR (Massachusetts, USA)

– "Very contemporary colors and sound. Very good guitarist." – CBSI (Quebec, Canada)

– "What an album ! It's been some time since I last listened to a real master on guitar." – Kosmos 93.6 (Athens, Greece, EU)

– "A fascinating and mysterious atmosphere. A groundbreaking album." – CBV (Quebec, Canada)

– "A happy union of jazz, flamenco and Caribbean[…]a good guitar playing technique." – NHK AM 1 (Tokyo, Japan)

– "Bueno Muy bueno ! Que maravilla de expresion con la guitarra…" – Catalunya Musica (Barcelona, Spain, EU)

– "Here is to fans of creative guitars! … Ralph Towner meeting the Assad brothers and Pat Metheny." – Guitarist (France, EU)
World music
When it can't be adequately labelled, people wrap it up in a flag, a nationality, or several of them. Sometimes the unclassifiable is defined by its ingredients, a blend of "this and that". And in this patchwork of referenced souvenirs, rather poorly assembled, the extraordinary details that make another culture another world, are lost.
Here, the music is composed with history in mind, respecting the intuitive codes that link these four musicians; Because each pulse of this world is a science, palpable, if undecipherable, an experience, an internal, instinctual phenomenon.
This is no anthropological document, but rather tradition's perspective on the future, an "ethno-contemporary" music.
Let's follow the drum of the slaves in this suite: KA SUITE
Jean Christophe Maillard's music is rooted in a deep tradition, the tradition of the Ka drum, whose seven rhythms accompanied the life of slaves – their hard works, their dances and their mystical gatherings – in the West-Indian island Guadeloupe. It stands for a culture that is almost forgotten, but still kept alive by a handful of men : today, it is the symbol of a fight for freedom and independence.
The music composed for Ka Suite has chosen the classical guitar (known as spanish guitar in Guadeloupe) as the medium through which the drums would reveal the diversity of their tones and the subtleness of their inner melodies. It is a new writing experience where all academic rules have to abide by the drum's injunctive calls and dynamic patterns.
The guitar is now taking up the ka's musical codes to the point of becoming a percussion instrument, while drums obviously seem to be singing
The Press
Released in 2000, Ka Suite got a lot of praising reviews (including 4 stars in Jazzman Magazine in France). Reviews in English and French will be soon available.
The Story
The story of Jean-Christophe Maillard, French composer, musician and arranger native of Pointe-a-Pitre, Guadeloupe, Caribbean, is that of atypical circumstances: early classical piano studies, playing every sunday at the age of 12 in the small church of Saint-Claude, a town on the slope of the Soufriere volcano, artistic influences from both sides of the Atlantic, would naturally reflect along in his work and collaborations.
When I hear the drums, I hear melodies. Each time the skin (the hand of the drummer) hits the skin (the head of the drum) I perceive a note or a harmony and not two strokes are alike, never. Maybe for the same reason, I have always reached peaks of excitement while playing looping patterns when the groove is set, and witnessing the subtle shift of the accents from one note to the other, like moving a point of reference, and all of a sudden, each and every cycle seems to reinvent itself. Through recurrence, melodies can endlessly transmute. There lies the mystery of the transe that I want to share."
It is obvious that drums, more largely rhythms, would play a huge part in his music.
In 1994, JC was invited to perform at the Martinique, Carrefour Mondial de la Guitare festival (international guitar meetings in Fort-de-France, Martinique) for a first time acoustic project with singer Patrick Saint-Eloi (of the french Caribbean band Kassav). There, noticed during a TV performance by it's artistic director, cuban master composer and guitarist Leo Brouwer, he was asked to perform for the festival's closing night a duet with master guitarist Philip Catherine from Belgium. Once back in Paris, JC called Fanny Auguiac, the festival's executive director, offering to premiere at the following edition (in 1996) a creation around the guitar and the Ka drum. Ka Suite was born.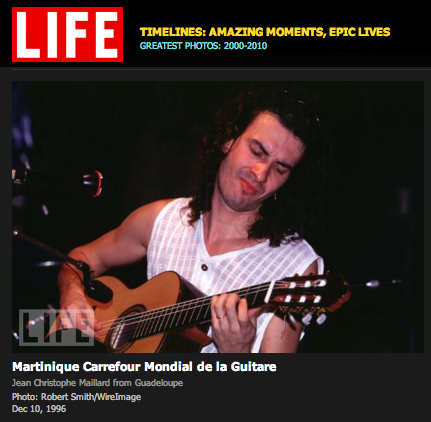 The music was written throughout 1995 and 1996, rehearsed in Paris and first performed in a club in December 1996 in Fort de France just a couple of days before the premiere concert, an outdoor performance in Sainte-Anne, in the south of the island, featuring Philippe Makaia and Klod Kiavue from Guadeloupe on Ka drums and bass player Etienne Mbappe from Cameroun.
After a few concerts in France and Guadeloupe, JC took advantage of some free time in the summer 1998 to record the music of Ka Suite. The album was released in early 2000.
Ka Suite has been performed in various line-ups from solo guitar, duet (ka and guitar), up to quintet (guitar, bass, 3 percussions).
---
JC playing "Ka Suite" solo, NYC, 2011:

JC playing "Ka Suite" duet, NYC, 2011: