---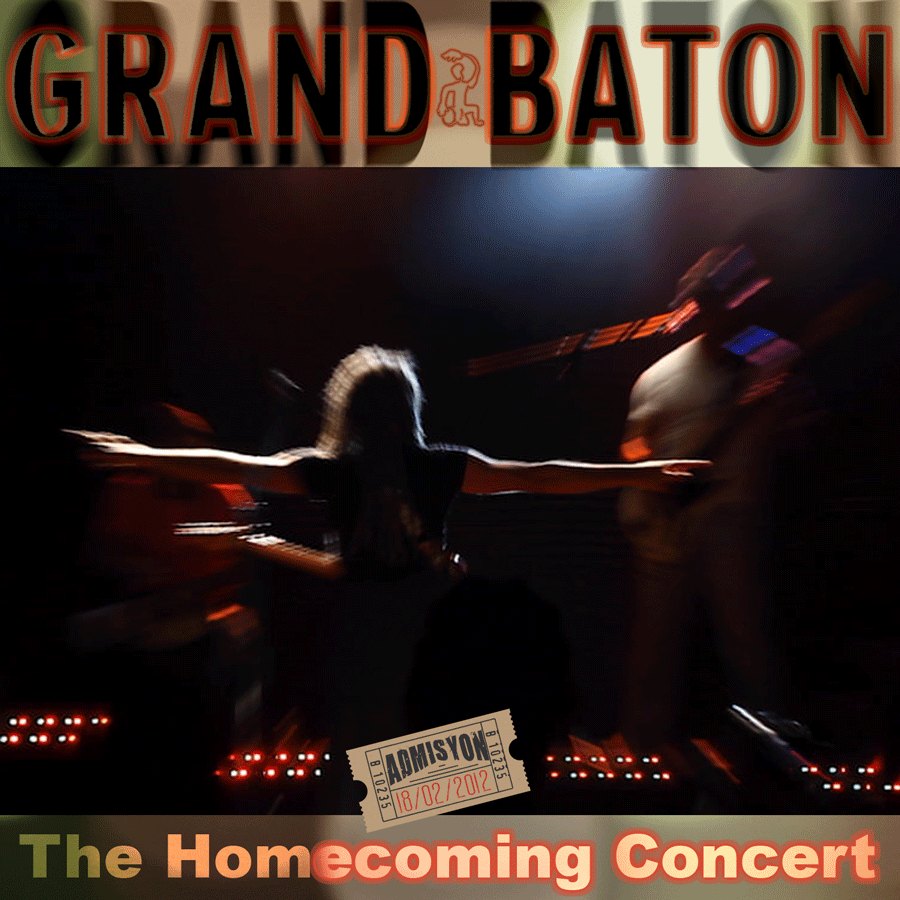 Double live album recorded in 2012, released in 2022, the "Homecoming Concert" took place at the end of a tour in Guadeloupe. Probably the most emotionally charged moment for Grand Baton, since we were bringing the music back to its roots and people. You can imagine how intense of a moment this was; it was like presenting your child, already 5 years old, to his grand-parents :). This recording takes you back to that moment.
---
Grand Baton has set to open doors to a new world-music by extending the vocabulary of the traditional music from Guadeloupe, through a deep reflection on rhythm pattern combinations, melody lines, sound experimentations and modern recording production, as well as a focused attention on the use of genuine creole language.
Grand Baton redefines a culturally conscious world-music that is looking forward and agrees to redefine its tradition, embracing modern forms.

Grand Baton "Carnal Carnival" available here on CD Baby, iTunes
– "Essentially a hybrid composition of rock and dubstep elements with the temperament of Caribbean carnival music and the vocabulary of the Ka drum.[…]Carnal Carnival is a testament to Maillard's versatility as a songwriter and his dauntlessness in experimenting with and expanding on music with a long-established heritage.[…] As a modern, urban work of music Grand Baton's Carnal Carnival succeeds on every level. It's a bold new approach to a deep-rooted musical heritage, a thoughtful tribute to the musicality of an instrument and ultimately just an all out entertaining album.[…]it's what I call a record with balls! – Andrei Cherascu (themusicandmyth.com)
Read the full review on The Music And Myth!!!
---

Grand Baton "Le Grand Baton" available here on CD Baby, iTunes
– "Damn, "File" sounds fantastic. Congratulations, great stuff here![…]such a fantastic record[…]I will recommend it to lots of people. It's thoroughly great. Congratulations!!" – Mike Keneally (Frank Zappa…)

– "Every now and again, I'll find music that is really cool – this is one of those times. Great music!!" – Lyle Workman (Sting, Alice Cooper…)

– "Wow! Very cool music!… I mean… c'est tres cool!!" – Ronan Chris Murphy (King Crimson…)

– "Bloody great work! I really like it, great playing and I like the album concept. Very, very interesting, and different, too." – Marco Migliari (Peter Gabriel, Deep Purple..)

– "Maillard can be considered as a pioneer regarding this combination of various genres[…](his) music brings out the best from his world and the Rock world[…](his) purpose in his composing is brilliant and he has a lot to give to the music industry." – Metal Express Radio (http://www.metalexpressradio.com)

– "Groundbreaking… It is a truly unique and captivating style of music[…]an impressive new force in the world music scene that has received warm accolades from many well respected members of the musical community[…]I wish more new music was as original as this. " – Progressive Ears (http://www.progressiveears.com)

– "The drums combined with electric guitar and the strong, often falsetto voice of Jean-Christophe Maillard deliver a universal message[…]a rhythmic sensibility that will rattle your ears and shake your brain[…]King Crimson gone tribal, or a more kinetic Peter Gabriel, or maybe a less frenetic System of a Down." – Sea Of tranquility (http://seaoftranquility.org)

– "A well-experienced musician and author[…]there's no doubt that he deserves only respect for his author's work and evident original views[…]could be a one of most original product released during the previous year." – Rock Serbia (http://rockserbia.net)

– "Mbutu's [JC Maillard's nickname] music is strong and energetic with catchy melody lines. Recommended. " – Ectagon (http://www.ectagon.com)

– "Le Grand Baton is an excellent album to seek out for listeners of "World music" with a rock edge" – Proggnosis (http://www.proggnosis.com)

– "Highly recommendable[…]a collection of musical contrasts, characterized by ambitious lyrical themes." – Progressive Rock & Progressive Metal (http://www.progressiverockbr.com)

– "The compositions get more and more fascinating as one adjusts to this rather unique stylistic expression[…]worthwhile investigating for liberal-minded followers of rock music that feel a variety of styles, moods and genres is a treat." – Progressor (http://www.progressor.net)
Acces full reviews here


Grand Baton
(Go to www.grandbaton.com)
Uprising and resistance, here is the Ka, the traditional drum from Guadeloupe, goat skin, ropes and wood the beating heart, the grounding.
Rebellion and arrogance, electric guitars, the sound of rock and roll the carrying wave.
And then a language, a crossroads of deported cultures, Creole, as it is rarely heard, refined and noble.
A powerful music therefore is born, not from some sort of improbable fusion, but because it has something to say, and has chosen to say it loud.
The Grand Baton project was probably incubating along with the making of Ka Suite. JC actually recalls an interview in Paris for the release of Ka Suite, in which the journalist acknowledged a rock energy in the acoustic music of the album. Actually, JC had already experimented with a lot of different mixes of traditional drums from Guadeloupe with other pop and rock sounds (listen to the album "Mi" produced for singer Tanya St Val in 1994).
Rockin' The Caribbean
So it all began on this island awash in the Caribbean, waves of Carnival interspersed with the beat of drums. The teenager looking across the ocean lets his headphones flood with a strange mix of possibly anything the radio waves can bring over. Here, he begins collecting: testimonies from the horizon, breath from the four corners of the world, and echoes from distant shores all gather in his mind's ear. Strange alchemy.
It had to happen there – because of the unique geography of the Caribbean, under the direct influence of the colonizers metropolitan centers and their urban culture, and with the United States next door. These rebel and rural territories, fertilized by a rich blend of ethnicities, have given birth to many major musical styles and rhythmic pulses, each proving that mixing does not mean losing identity. Like the elders who adapted traditional European ballroom dance to their instincts, creating the Biguine, the Plena, the Son, so will the Caribbean have its way with Rock.
The Name
Back in 1993, JC Maillard was a young guitar player touring across Europe with world music pioneers, african band Toure Kunda, a tour which earned him the nickname Mbutu (inspired by the creole word "boutou, meaning the stick, with an african twist; on the credits of Grand Baton's first album Le Grand Baton, JC only appears as Mbutu).
This came naturally as an inspiration for the name of the project, that JC wanted to be able to translate both the spiritual heritage and the fighting spirit behind the music. The great stick, a symbol for guidance, leadership, a mystical power as well as a weapon (Gran bwa, in creole is also the name of one of the spirits of Haitian Vodou).
More Grand Baton videos here